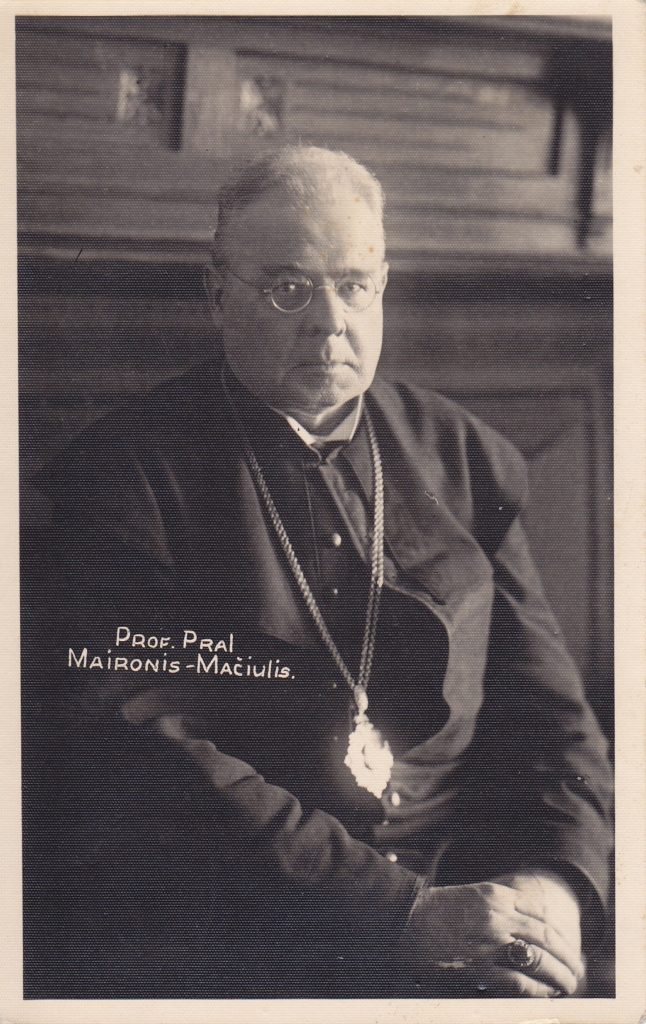 Maironis was a pioneer of new Lithuanian lyrical poetry, and was extolled as a prophet of the national revival. His poetry influenced other writers, and in Lithuanian literature, his literary style is named as a distinct Maironis literary school.
Jonas Mačiulis (Maciulevičius in documents), was born in 1862, in Pasandravis manor house, and grew up in Bernotai village (Šiluva county, Raseiniai District). His parents were free peasants and had close relationships with the Polonised gentry.  The foundations of education J.Mačiulis received from his father and in Betygala School that he attended for six months. In 1873 J.Mačiulis entered the preparatory class of Kaunas Gymnasium. In the sixth form, he started writing poetry in Polish. In 1883, having graduated from the gymnasium, he entered Kyiv University to study literature. Respecting the wish of his parents, in 1884 he entered Kaunas Theology Seminary. After graduating from the seminary, he continued his education at Imperial Roman Catholic Spiritual Academy in St. Petersburg from 1888 to 1892. In 1891 J. Mačiulis was ordained a priest and awarded the degree of a candidate of Theology. At that time he used his pseudonym Maironis for the first time.
In 1892, he earned his Master's degree in Theology. From 1894 to 1909 he was a professor at the Clerical Academy of St. Petersburg. These years were the best and most creative ones for J.Mačiulis. He wrote his best works at that time. In 1903 he was awarded a doctoral degree in Theology. In 1909 J.Mačiulis returned to Kaunas, and was appointed as a Rector of Kaunas Theology Seminary where he worked for the rest of his life. J.Mačiulis died on June 28, 1932, and was buried in Kaunas.